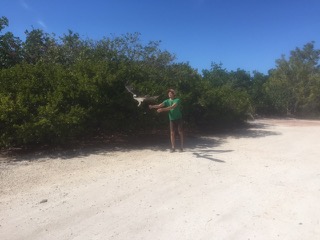 This very healthy adult osprey was spotted by a kayaker in the water in the basin known as Dodge Lake behind the airport on Aviation Blvd on Sat., Feb. 4th. The bird had it's wings out trying to propel itself somewhere where it could get out of the water.
Ospreys are known to have strong wings and CAN completely submerge and the re-emerge from underwater when hunting fish. Occasionally, however, the bird attempts to get a fish that's too large for it and ends up either exhausted or waterlogged.
Due to all the surrounding sea walls and docks the bird finally found an "out" via a residential boat ramp of an empty, gated house that was For Sale. The rescuer was smart and called the realtor listed on the sign who was kind enough to provide us with the gate combo so we could rescue the bird.
Overall, the bird checked out perfectly healthy yet wouldn't self-feed, nor fly away a day or two later once thoroughly dry. X-rayed revealed no fractures or pellet shots.
This past weekend not only did the bird start to self-feed, but we noticed (once silent) it had now  suddenly become very vocal and was moving around a lot more. By Mon., Feb. 20th the bird was flying to the top of it's 8′ tall pen.
After three previously failed attempts at release, the bird flew off high into the sky later that afternoon thank's to a little lift from our intern, Blake Lamb!
Since they simply aren't "talking" we can only guess the reasons some of our patients come to us. Like many, this one will always be a mystery!