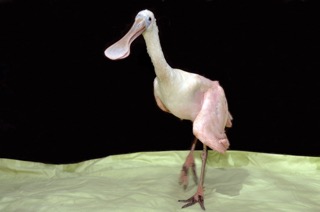 This stunning creature came in to the Wildlife Rescue of Dade County on December 29, 2016. Since the Wildlife Center specializes in small mammals and raptors, they asked us at the MWBC if we would try to rehabilitate it. We gladly accepted, and adopted this feathered jewel on January 10, 2017.
This spoonbill was found in the Everglades about 5 months ago, with an old dislocated or broken elbow which will keep it from ever returning to the skies. Its gender is currently unknown. We are expecting DNA gender results within the next couple of days.
This adorable bird loves fish, but surprisingly is not fond of shrimp. As it's health improved, so it got pinker, but will only get really pink if it learns to love shrimp. It is still a juvenile – only half-grown.